Business Recruitment
Unique Precision Industries formerly of Temecula California is proud to be operational at 315 No. 4 th in Worland, WY. Back in May of 2021, The Washakie Development Association met Gus and Paola Minicozzi when they visited Wyoming and were interested in the Worland Farm and Ranch Building owned by WDA.
The Minicozzis were not the successful offer on that building but WDA acted fast and sent a representative to California to propose plan B to remodel the old Coors Warehouse on North 4 th in Worland. The following week the Minicozzis returned to Wyoming and set the project in motion to move their precision machining business, and much of their workforce to Worland.
So many moving parts, through an uncertain time but WDA was able to facilitate the successful project towards UPI becoming fully operational in their new facility in July 2022.
Thanks Gus and Paola Minicozzi and your team at Unique Precision Industries for investing in Washakie County!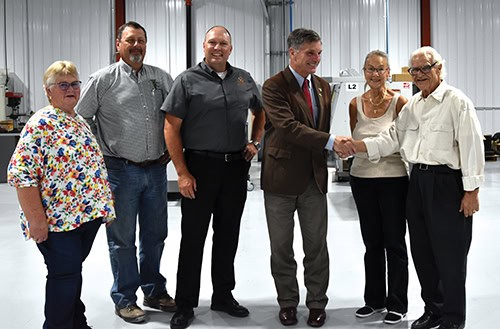 Photo Credit: Karla Pomeroy Editor Northern Wyoming News